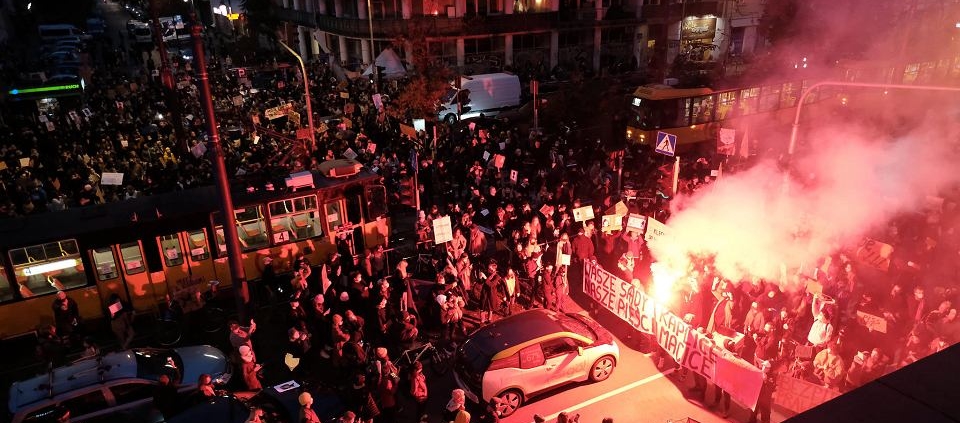 Pic by Sławomir Kamiński/Agencja Gazeta
Polish pro-abortion protests have grown to being the biggest in the history of democratic Poland. Scale of the protests drove Polish ruling party to withhold publication of the abortion-banning ruling of the Constitutional Tribunal, initially planned for October 2.
After days of protests, Polish President, Andrzej Duda, presented his own draft of an anti-abortion bill, despite initial declarations of support for the Tribunal's decision. Presidential bill proposes to keep abortion legal in case of lethal malformations, but upholds Tribunal's decision to ban abortion in case of foetal defects which do not pose a threat  to life. The bill should be voted upon during the next parliamentry sitting, which was scheduled to start today, October 4, but was postponed by 2 weeks by the ruling party. According to our on-the-ground sources, the decision to postpone the sitting may had been made in order to raise support for the presidential bill from the MP's of the ruling party, Law and Justice.
The picture included in this post was taken on October 30, during mass protests in Warsaw, by Sławomir Krzemiński (Agencja Gazeta)
https://astra.org.pl/wp-content/uploads/2020/11/z26439592VProtest-przeciwko-zakazowi-aborcji.jpg
640
960
admastr
https://astra.org.pl/wp-content/uploads/2018/08/logo-1.jpg
admastr
2020-11-04 16:42:20
2020-11-04 18:27:17
Polish Parliament's session postponed, possibly due to mass protests