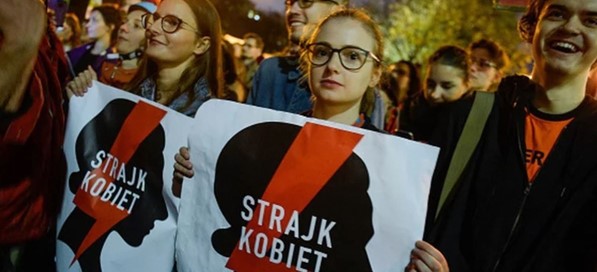 Polish Parliament is set to discuss the infamous civil draft bills banning both abortion and sexuality education during a sitting next week (15-16 April). The timing of this debate could not be worse, given the COVID-19 lockdown and a ban on public gatherings that makes it impossible to hold a street protest.
The projects, known as "Stop Abortion" and "Stop Pedophilia", aim to ban abortion and sexuality education in the country. Both filed as civil draft bills, they have to be read and voted upon by the Parliament within 6 months of this Parliament's term.
Poland has one of the most strict abortion laws in Europe, allowing for the procedure to be performed only in cases of the pregnancy being a result of a crime, a risk to mother's health or life or when the phoetus is malformed. However, womens rights activist in the country have been noting that even when the conditions are met, doctors often deny their patients of service and women and pregnant persons are forced to carry the pregnancy to term.
Sexuality education is currently an extracurricular subject. Proposed ban proposes to criminalise teaching comprehensive sexuality education in schools, stop doctors from prescribing contraceptives for anyone under 18 and put carers at risk of imprisonment if they talk to youth about sexuality.
We will update this article as soon as further developments arise.
https://astra.org.pl/wp-content/uploads/2020/04/poland2-1.jpg
272
597
admastr
https://astra.org.pl/wp-content/uploads/2018/08/logo-1.jpg
admastr
2020-04-07 14:44:56
2020-04-07 14:44:56
Polish bans on sexuality education and abortion are back