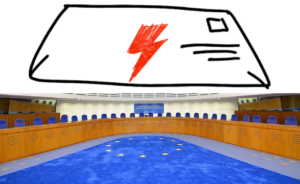 In April 2021 Federation for Women and Family Planning started the Women's Collective Complaint campaign. Its aim was to encourage Polish women to send applications to the European Court of Human Rights in connection with the decision of the so-called Constitutional Tribunal  that banned abortion due to severe fetal defects.
The European Court of Human Rights has just announced that it will deal with the merits of some of the complaints that it has received. This means that the ECHR sees the possibility of at least a POTENTIAL VIOLATION OF HUMAN RIGHTS in a situation where women of reproductive age in Poland are afraid to get pregnant because of the restrictive abortion law.
ECHR will consider three groups of four cases each, that is a total of 12 complaints against Poland. These are not the only applications that have been lodged as part of the campaign, because the European Court of Human Right has chosen the stories that most appealed to it. Perhaps there will be more communications, but these 12 cases are also a success!
An excerpt from one of the stories:
I'm 27 years old and I'm getting married soon. Recently, the doctors have discovered that my partner had chromosomal complications. My chances of a healthy pregnancy are less than 50%, there is a high risk of chromosomal abnormalities in the fetus and that it will die shortly after birth. I would like to be able to make the decision to terminate such pregnancy. Without it, I am afraid to even try to fight for the longed-for motherhood.
The complainants are now going to have to exchange letters with the Polish government, in which our Legal Team will gladly help for free. All persons who have received a letter from the ECHR are asked to come forward to the Federation – says Kamila Ferenc, a lawyer and deputy director for program affairs of the Federation for Women and Family Planning.
We are now waiting for the government's position on this matter. We also encourage anti-discrimination organizations and those defending women's rights to submit applications to the ECHR to be able to state their positions as "friends of the court" (amicus curiae) – says Agata Bzdyń, a legal counselor and member of the Federation's Legal Team, as well as a co-author of a complaint template in the Women's Collective Complaint campaign.
Monika GÄ…siorowska, attorney-at-law and member of the Legal Team since its beginning, has also participated in the works on the complaint templates.
https://astra.org.pl/wp-content/uploads/2021/07/www-wpisy-300x184.png
184
300
admastr
https://astra.org.pl/wp-content/uploads/2018/08/logo-1.jpg
admastr
2021-07-11 17:05:23
2021-07-19 17:09:29
European Court of Human Rights to consider Polish women's complaints on the abortion ban